About A to Z, RV Window Blindes and Shades:

A To Z, Inc. dba A To Z Window Fashions:
A To Z Window Fashions is owned and operated by Carl & Glenda Lauterjung. We are snowbirds spending our winters in Yuma, Arizona, and traveling in our RV during the summer months.

---
Our Business:
A To Z Window Fashions was started in 1998 on a part time basis to supplement our retirement and to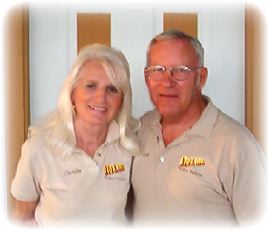 provide a window shade repair service to one RV dealer in Yuma. Our reputation for doing quality work on a timely basis for a reasonable price has allowed the business to grow beyond our expectations. We now work for several RV dealers and most of the RV Service retail shops in Yuma refer customers directly to us.

Irvine Window Coverings, one of the largest suppliers of Day/Night pleated window shades to the RV industry, has enough confidence in our work that they refer customer requests for repairs and new shades from all over the country to us. Shades to be repaired have been shipped to us from both coasts and many points in between.

---
The Next Expansion:
A To Z Window Fashions was to provide new window shades to replace shades that are damaged beyond repair or to upgrade existing window coverings. To provide this service, we became retail dealers and currently represent the following products:
1. Irvine Window Coverings
2. Specialty Window Coverings
3. Ascot Enterprises, Inc.
4. United Window Coverings
5. Comfortex Window Coverings
6. Graber Window Coverings
7. MCD Innovations
8. B & W Window Fashions

---
Growing A To Z Window Fashions:
As our business expanded, we began to receive requests for materials and parts to allow customers the opportunity to repair their own window shades. We responded to these requests by developing a line of repair kits and packaged parts. A natural development was to begin marketing these items to wholesale accounts for retail sales. We are continually welcoming new retail and wholesale customers that we can help assist with all their window shades and fashions needs and requirements.
A To Z Window Fashions recognizes the ever growing need for window coverings in the private home market as well, and we will continue to work to increase that part of our business to assist you further with all your window covering and fashions.

---
A To Z Window Fashions (Summer Traveling):
As we travel during the summer, we do get some requests for repairs and a few new installations. We spend a lot of our time establishing new wholesale customers. We also work hard to expand our product line and improve and promote our web site.

Glenda's brother, Ron Cooper, has been added to our staff and spends the summer months in Washington state. He has a 20' cargo van with a complete line of parts and repair facilities. He is very mobile but will share his time between Everett and Yakima. He can be contacted through this web site or directly by cell phone at 425-231-2657. He can solve your window shade problems while you are in Washington.

---
Contact us for more info